If you're a skateboarder, then you know it's not just a plank of wood with some wheels. There are many important components for a smooth ride, including the bearings.
Skateboard bearings are made of a bigger outer ring and a smaller inside ring. Between each ring is several small steel balls. These balls are what allow the wheel to turn smoothly. On both sides of the ring are shields or covers that stop dirt from getting into the bearings.
Some skaters like to skate with bearings that do not have shields. If you choose to skate this way, the bearings are more likely to be contaminated with dirt. But they will be faster. Also, many skateboarders like the sound of a skateboard that has open bearings. If you choose to have no shields, you will need to clean your bearings more frequently.
Is an ABEC Rating Proof of High-Quality Skateboard Bearings?
There is a myth out there that the better the ABEC rating, the faster and better the skateboard bearings. But this is not really true.
ABEC stands for Annular Bearing Engineers Committee. It is a special standard for how finely ground and polished the rolling parts are. The higher this rating, the lower the tolerance for manufacturing errors.
The rating does give us good information about bearing quality. But the RPMs with skateboards are low. So the rating means very little in this application. A high ABEC rating will not result in better performance in skating because of the low speeds involved.
For example, an ABEC 7 or 9 bearing can take a speed of up to 30,000 RPM; For a wheel of 54 mm, this is a speed in excess of 200 km/hr. So as you can see, this is really not relevant for skateboarding.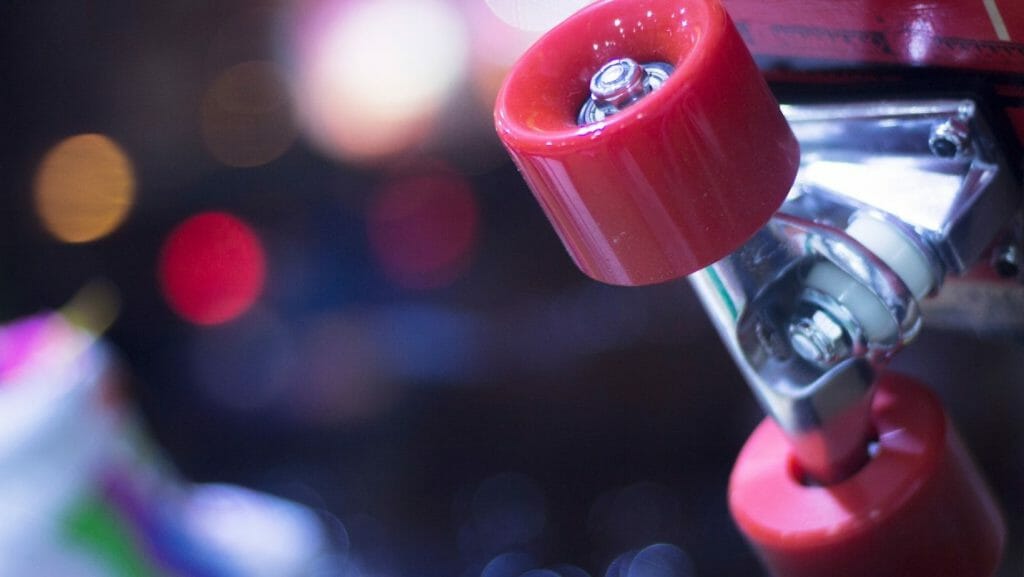 There is a myth out there that the better the ABEC rating, the faster and better the skateboard bearings. But this is not really true.
Remember that water causes bearings to rust. So it is best to prevent them from ever touching water. That is why skating in the rain is a bad idea. It also is better to maintain the quality of the skate deck. Plus, you have a higher risk of getting hurt on wet surfaces.
Next, do not oil your bearings without cleaning them first. Cleaning the bearings will make them last much longer. A proper cleaning can take old bearings and bring them back to life and make them roll smoothly again.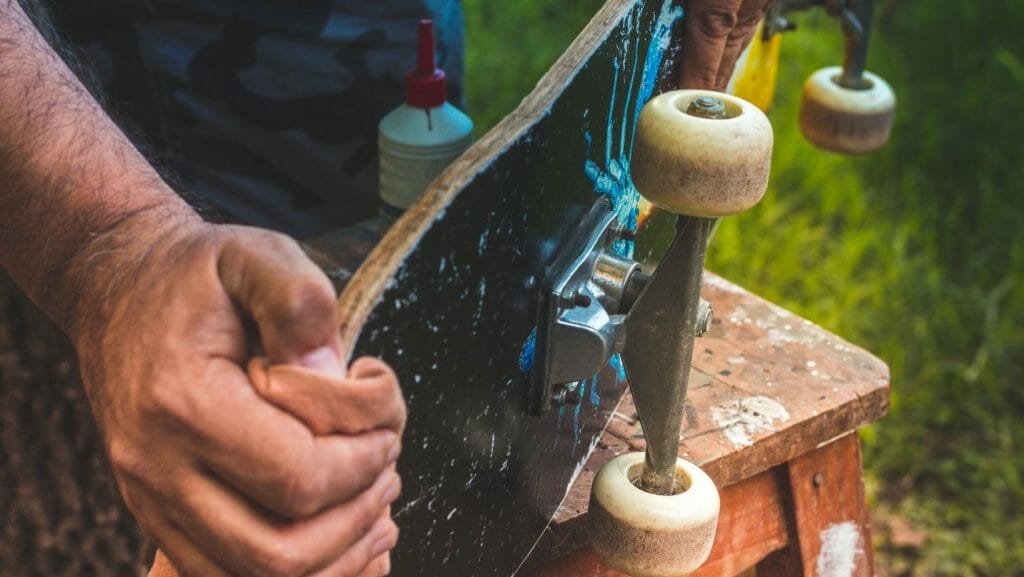 To clean them, you need a good lubricant, a container in which to clean them, and a proper cleaning solution; many recommend pure alcohol or a citrus-based cleaner.
The first thing to do is to remove the bearing shields. Now you can carefully slide your bearings onto the bolt that is on the bottom of the lid, including the wing nut and spacers.
The balls of the bearings should be upward facing, and the cage they are in sits downwards.
Fill the container with your cleaner and reseal the container lid. Shake it for a few seconds and let the bearings soak to get rid of dirt and grime.
Take the bearings from the bolt very carefully and let them dry. After they are dried, you should put two drops of lube on each. Put the shields back on your skateboard bearings, and you are done.
Now that you understand what skateboard bearings are, how to clean them, and more, you should be better able to take care of your skateboard. This knowledge is important to keep you skating successfully. Good luck!